ALHAUS case study | inCarlow: a new magazine is born
Most of us have idly leafed through magazines in a newsagent or at the GP's surgery. Perhaps we subscribe to a favourite title or two, or even make regular pilgrimages to the local bookshop to seek out new periodical treats.
But even the most dedicated magazine enthusiast may never give a second thought to how a publication actually came to be resting in their hands. Here, we present the behind-the-scenes story of how the spark of an idea grew into a brand new magazine, created to showcase Carlow and tell the county's many tales.
The inCarlow Magazine journey began with a kick-off meeting at which key players met to discuss the content requirements for its inaugural edition. 20 initial story concepts (clarifying what each story needed to say and how best to say it) were reviewed and debated. Once we were armed with this information, it was time to get going.
Management and milestones
We could hardly wait to break out the task lists, timelines and other management tools in our team's arsenal. But an orchestra only creates perfect harmony if all members are playing in sync—and that's where milestones come in. They provide a supporting structure that may start as a simple musical theme, but eventually expands to contain every instrumental part delineated in detail, down to the last note— setting them out clearly for every musician to see, regardless of their role.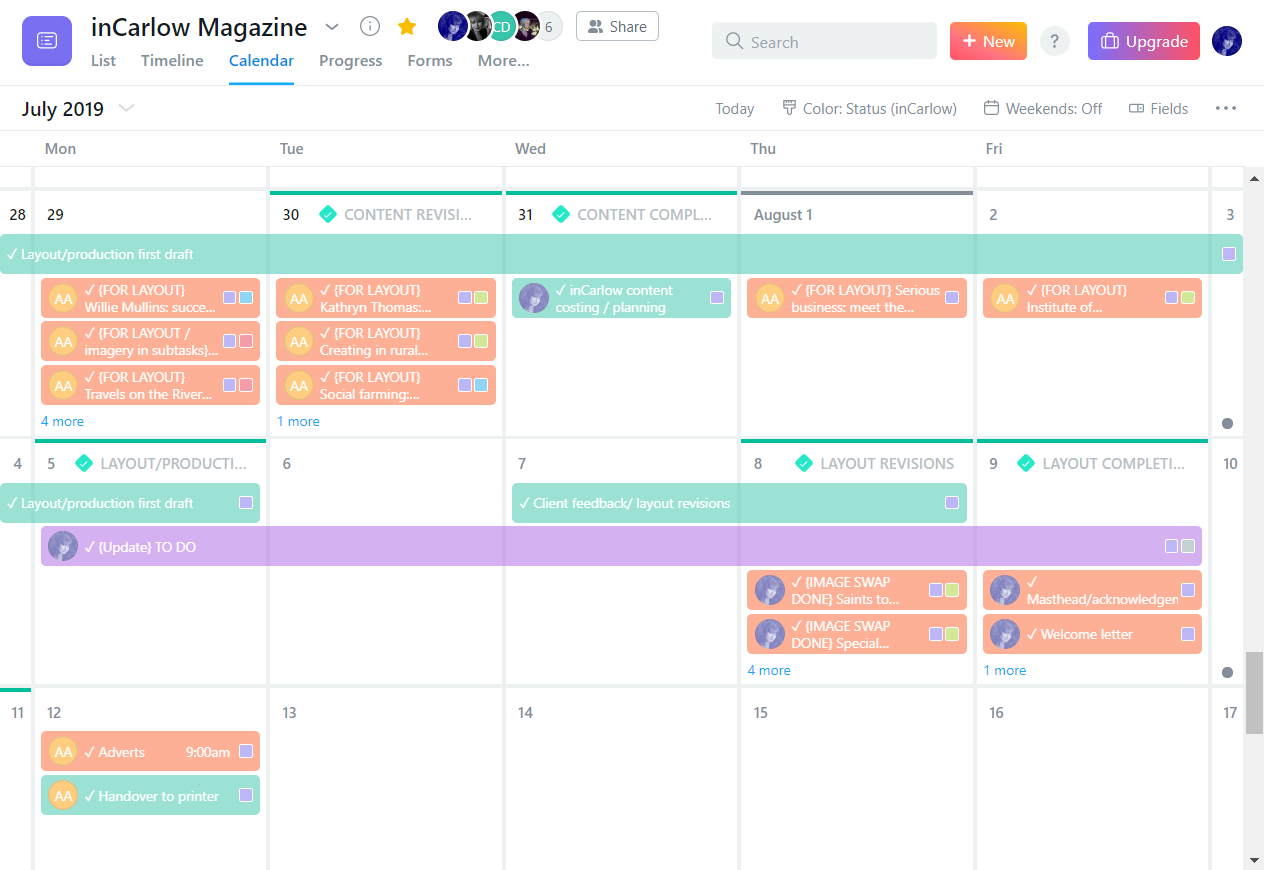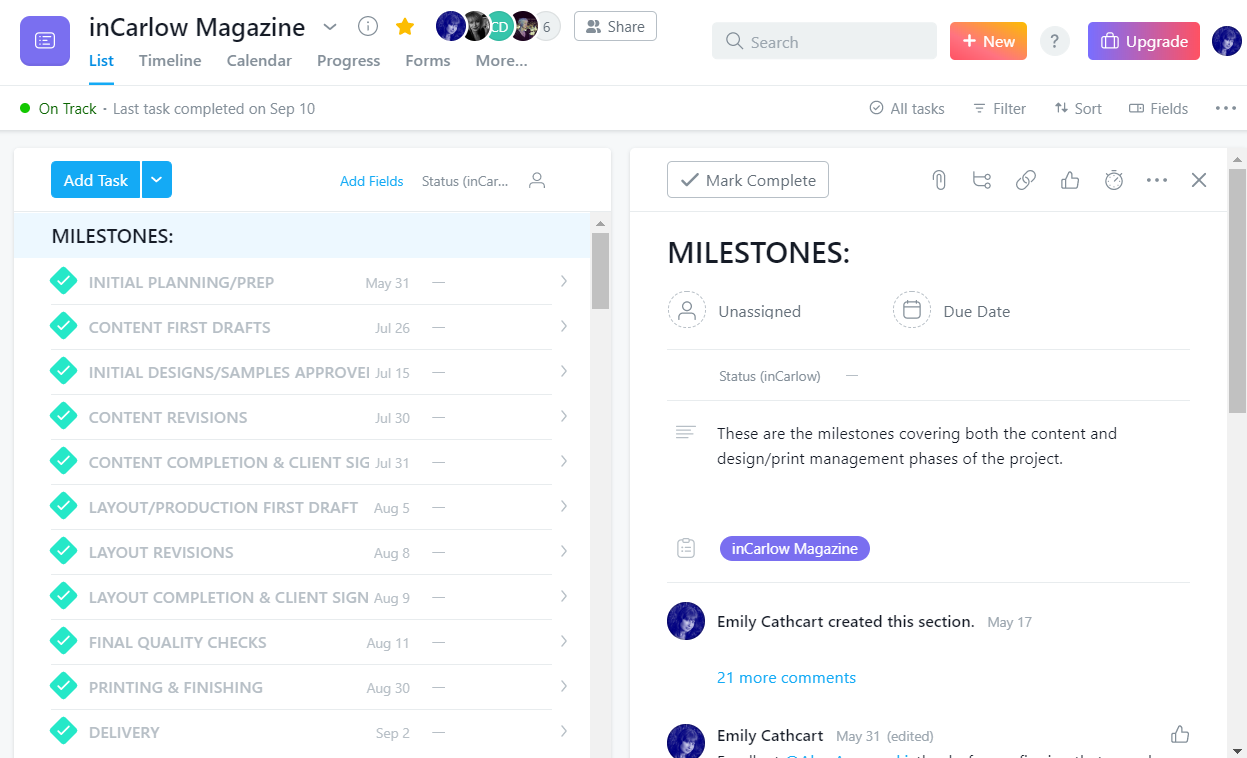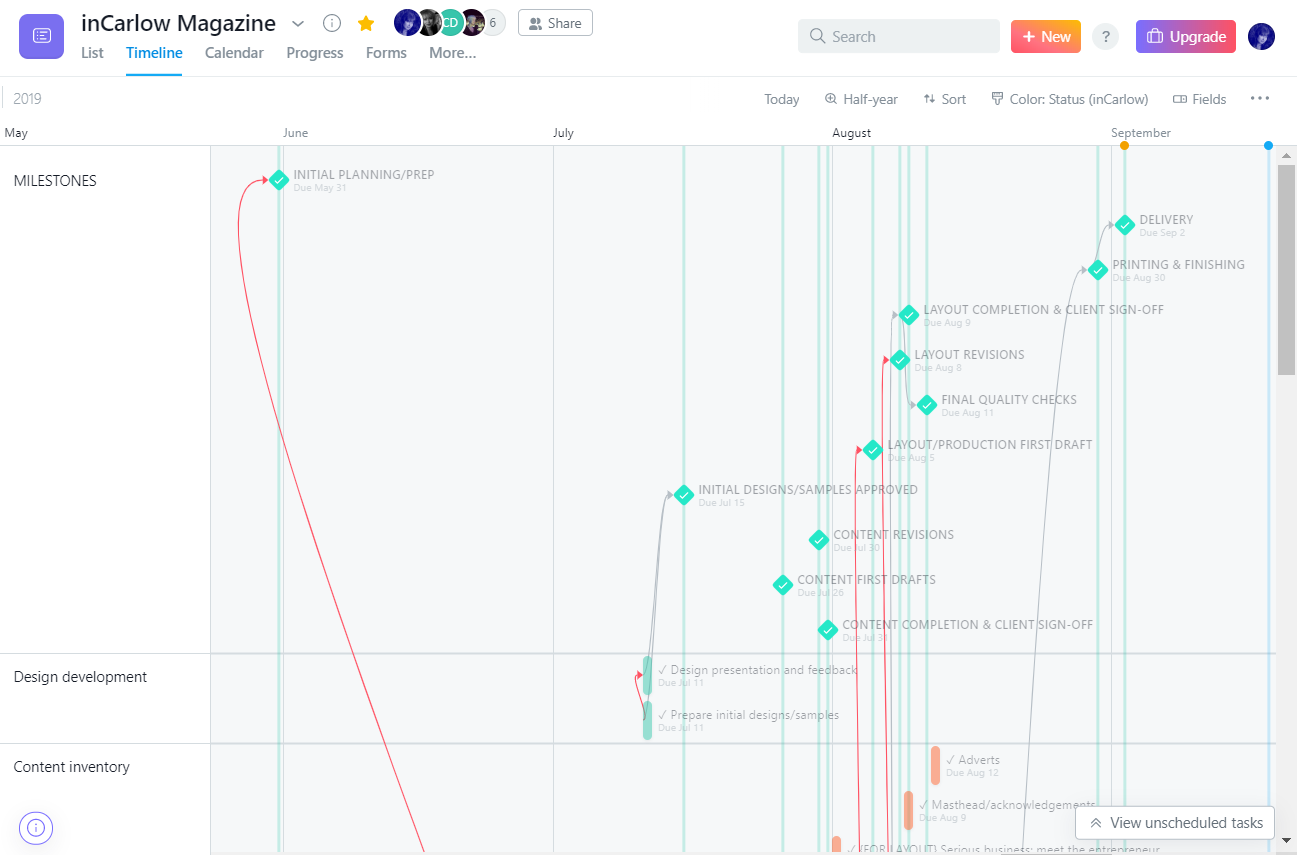 inCarlow project management and milestones
Content creation
Content creation is a prime example of a seemingly straightforward task that, in reality, contains many interlinking steps: from angle refinement, research and contacting interviewees; to writing, revising and editing; to proofreading and preparing for layout (and each step can involve a number of sub-steps). In this case, first the list of concepts was distilled by sacrificing certain pieces altogether and replacing or expanding others. We decided who would write what; writers were assigned their pieces; and their drafts were submitted and internally reviewed. At the very outset, we designated a single point of contact—on either side—and established an efficient way of working with the client when it came to sharing drafts and securing feedback and/or sign-off.
Design development
While content creation was underway, we also worked through several design stages, including concept research and identifying a visual tone of voice; preparing initial designs and samples; and presentation to the client. This process also involved assessing hundreds of supplied images to match up with articles; sourcing further imagery from content banks; and in one case in particular, commissioning a photoshoot when what we needed simply didn't exist (and providing art direction for the photographer).
Layout/production
Once the sample designs were approved, all written content was signed off, and the imagery was organised—at this point the project was ready for layout. This process saw a number of iterations of inCarlow produced, with project managers liaising with both the design team and client until everything was 'just so'. Once approved, final internal quality checks were done and artwork was prepared and sent for printing.
Print management and… delivery!
Having communicated with the printer in the project's initial stages, we were already booked in for our slot. Working to a mutually-agreed date, we checked in regularly with the printer, ensuring that we were on track for timely delivery. With ample turnaround time provided, the shipment of inCarlow Magazine arrived—before its due date, at a healthy weight of 3557KG (give or take a gram).
There's something particularly special about being given the opportunity to create a publication from scratch and we were delighted to be part of this project. At ALHAUS, we are experts at blending expertly crafted copy and beautiful design to bring brand stories to life — contact us today to find out how we can successfully deliver yours.